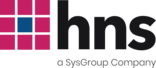 Why geography goes 'south' when it comes to mapping the Internet
17th November 2015
John Volanthen, HNS Technical Director
17 November 2015: Imagine, as part of your expansion strategy, building or co-locating to a new regional data centre for getting 'closer' to customers and increasing competitive edge. Only to find, after all the planning and the cost involved your applications don't run as smoothly or responsively as expected, and network performance is actually slower than before you started!
Surely, getting physically closer in terms of geographical distance means lower latency network communications, more diversity, and an increased choice of local routes? Which all points to more responsive applications and services?
Not necessarily. While pure logic would suggest otherwise, happy customers, suppliers, personnel and increased sales revenues do not necessarily follow such a move. That's because the Internet does not precisely follow or overlay onto a map of the world. It's rather like expecting the London Tube map to be a faithful physical representation of London – it's not.
So deciding to site or use a data centre somewhere on the planet without first consulting the Internet's 'view' of the world is like sticking a pin in a map and hoping for the best. It is essential from the outset, and before committing to a new data centre, to monitor and evaluate the available network coverage and bandwidth in and around the area concerned, and the connections going into and out of the proposed facility.
Carefully consider whether these will be fit for purpose for current and future business demands. What types of applications and volume of users and data traffic are expected? Otherwise problems will arise with sluggish response times, a clunky user experience and risk of unplanned downtime.
What's needed, for more informed decision making, is 'X-ray' vision to allow companies to look into and visualise the inner working s of the Internet and which networks to use. Fortunately new tools are coming to market to do just this by enabling real-time visibility into the optimum routing of global traffic and where best to place data centres on the Internet's 'version' of the world map.
For a colocation and cloud provider like HNS with a geographically expanding data centre footprint and strong commitment to geographic diversity and network redundancy, this is good to know. Of course for HNS' customers, our Network Operations Centre automatically monitors data traffic flows and performs the necessary load balancing checks and adjustments on a 24/7 365 basis. Assessing network availability, performance and Internet connectivity also forms a key part of our due diligence when we are considering partnering with additional UK or internationally located colocation data centres.
Our "Local Knowledge, Global Reach" strategy ensures customers' systems and applications are highly resilient, responsive and continuously available to their users – wherever in the world they may be. No 'Sat Nav' required!
Back to blog home