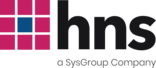 How to choose the right network for your business?
21st August 2015
Unravelling Networks
HNS Technical Director John Volanthen     
Computer networks are the unsung heroes of the global IT eco system. They are at the heart of what makes the modern world work and without them it just wouldn't be possible to have a truly connected global economy. Just imagine a world where there was no guaranteed means of transmitting vital data from A to B in the blink of eye, no e-commerce, no cloud computing, no worldwide web – no Internet of Things!
But as these networks are largely invisible to the businesses, governments, educational institutions and consumers who depend on them day in day out they are overlooked. That is until the data stops flowing and things start malfunctioning or stop working all together, from online banking and shopping to gaming and hum drum email. Rather like a car when a tyre blows out, you may only ever take notice of your company's particular network if it ceases to function!
Even if you are not an IT expert it is useful to have a high level understanding of which type of network is right for your type of business based on the applications and systems you are expecting to run over it. Pick the wrong one for the job and at best you may be spending more than you need to while at worst you could be seriously compromising your business continuity. Here are some of the basics to get you started:
Leased Lines
Leased Lines can provide your business with guaranteed symmetrical connectivity to the Internet or to a data centre on a network. They are ideal if you have several offices or buildings spread across a local area; require guaranteed Internet bandwidth; need to transfer large quantities of data quickly and reliably for data backup and disaster recovery. There are a variety of speeds and options including copper or broadband backup and fully redundant lines.
MPLS Private Networking
Don't' worry too much about the 'MPLS' bit. It stands for Multiprotocol Label Switching but to all intents and purposes just think of it as a private network for securely connecting any number of your remote locations using a highly redundant network. This is useful when you have offices that need to communicate privately without fuss or special configuration. These can be data centres or other locations served by leased lines, xDSL or Fibre to the Cabinet (FTTC).
Data Centre Internet Access
Data Centre Internet access is the perfect choice for users who require consistent high performance and reliability all day every day. Suitable for all types of mission critical applications, including data replication, voice, video and web hosting, you will ideally connect to a network via two independent links, which provide diverse paths from each data centre.
Managed Firewall and VPN
A managed firewall option is available both for data centres and leased lines. This is ideal for customers requiring a high spec firewall with low capital outlay, hardware swap out and built in expertise to configure and manage the device.
HNS Network
HNS is able to offer and advise customers on all flavours of networks and we are able to specify the most appropriate for meeting individual requirements.
Central to this is our diverse, self-healing network spanning all data centres in which we offer service. Strategic partnerships with selected physical line providers enable us to provide cost effective connectivity to anywhere in the UK. For optimised reliability, we always connect via two or more independent fibre links, sourced from different carriers, with different physical routing. This tried and tested system allows us to offer exceptional uptime and performance, giving us the ability to transparently route traffic to the best path in real time.
Furthermore, our diverse peering and transit at data centre locations in London, Manchester, Cardiff, Amsterdam and New York provide exceptional Internet performance and reliability as well as nationwide and truly global reach to customers. While headquartered in the UK many will have employees, suppliers and customers in Europe, North America and further afield.
So by adding well-connected data centres on other continents HNS can bring essential applications and services closer to where users are actually located. This can be provided as a transparent geo-redundancy service, or as "wires only" to allow the customer to build their own solution. Bandwidths from 10Mbit/s to 10Gbit/s are available.
This is what we mean by HNS providing 'Local Knowledge, Global Reach'.  But as they say, the proof of the pudding is always in the eating. Suffice to say our network services are re-sold by an increasing number of voice and video over IP providers who know that delivering their services over our infrastructure ensures end users enjoy quality services 24×7.
We believe we can offer a tasty solution for your business too!
Back to blog home