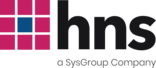 HNS: Dealing with data blindness
13th November 2015
HNS' Client Services Director John Lissenden on how Cloud-based storage provides a cure
30 October 2015: If your company's data storage is straining with the immense amount of data being created, don't panic, you're not alone. According to IDC's recent research two-thirds of businesses are not following best practice when it comes to safeguarding their data and few are likely to be adopting consistent data security policies.
Worryingly, this report has also suggested many companies are unaware how many copies of a given data set are being held within their IT infrastructure. Apparently, in some cases, organisations are holding several hundred data copies. Without knowing exactly how many copies there are out there risks not being able to tell who has access to them which poses security issues.
Clearly, duplicating and backing up data is essential but routinely and systematically creating copy after copy of documents, files, and other electronic data as part of disaster recovery, business continuity, test, development and backup procedures, is not best practice.
Aside from the security implications, unstructured data storage management leads to unnecessary expense in terms of consuming storage and network infrastructure which could otherwise be freed up and deployed effectively elsewhere. Moreover, by choking systems and networks with too many copies and store, move, and restore functions will cause mission critical applications to perform under par.
To see the proverbial 'wood for the trees' while at the same time optimising data security and available storage and network infrastructure, a more holistic data storage management approach is called for. But in a growing sea of data, attempting this in-house is becoming an increasingly daunting and cost-prohibitive task.
This is why more businesses are engaging with cloud computing and hosting providers like HNS to manage some or all of their storage for them on a 24/7 year round basis. Based in secure and modern co-location data centres, our scalable cloud servers and storage platforms ensure all sizes of requirement and budgets can be accommodated.
Stepping into the Cloud
Cloud storage has several advantages over traditional data storage. For example, if you store your data on a cloud storage system, you'll be able to get to that data from any location that has Internet access. HNS provide a variety of secure methods to access your storage space, and can provide VPN or leased line access for secure rapid data access. We are also able to accept seed data via courier or by delivery in person, saving time and money with large one off uploads.
For an exclusive private cloud service, customers may wish to deploy their own servers onto dedicated hardware which is then managed expertly by us. This option allows customers to specify exactly how the virtual machine infrastructure is built and where data software and virtual appliances are being stored. For additional peace of mind, all cloud servers, virtual servers and their physical hosts are monitored and managed on a 24×7 basis to ensure continuous operation.
Going a step further, HNS offers a Platform and Networking service where an advanced virtual server infrastructure allows us to mix physical and virtual servers and appliances. This can offer the best mix of scalability and performance, for instance mixing physical database servers with virtual application servers can allow the number of application servers to be varied depending on load. Similarly, we can distribute server clusters amongst data centres to provide automatic failover and geographical redundancy.
Back to blog home